What self-advocacy skills should be learned by what age? How can we assess these functional skills?
The

Guide to Self-Advocacy Skill Development
is a suggested sequence for students to attain self-advocacy skills from preschool through grade four, after which students should be able to repair communication breakdowns and advocate for their listening and learning needs appropriately.  This hierarchy is a useful assessment tool as it provides age expectations for specific skills.
The handout

Using the Ida My World Counseling Tool with Children
 pairs communication expectations and psychosocial stages of development with age-related expectations for self-advocacy and suggests how the Ida My World Counseling Tool can be used in conjunction with other freely available checklists to foster conversations with children that will provide information about their challenges and self-advocacy skills. More information on this Tool is provided below.
The Informal Inventory of

Informal Inventory of Independence and Self-Advocacy Skills for Deaf-Hard of Hearing Students
 has questions related to independence, self-advocacy, peer interaction, community and also a section specifically for students who use an interpreter. The checklist results in a score that is related to a qualitative scale of independence and self-advocacy skills.
The After LIFE questions of the

Listening Inventory For Education – Revised
suite of checklists is designed for students grade 3 and above (age 8+) to identify which strategies they use under 6 challenging situations. There are 22 positive strategies and 12 negative or neutral strategies. Progress can be monitored over time. The second page of the Teacher LIFE (
Teacher Checklist: Self-Advocacy and Instructional Access) can be used to obtain teacher input on the student's level of independence and self-advocacy.

Minnesota Compensatory Skills Checklist for Students with Hearing Loss 

Source:
MN Department of Education, 9/27/18. Use this form for assessing hard-of-hearing students' compensatory skills.

Supporting Self-Advocacy Skills in Children who are Deaf or Hard of Hearing 
A 2-page article directed to families from Minnesota Hands & Voices, May-June 2018 newsletter.

Through Deaf Eyes 
is an almost 2-hour video that portrays the history of deaf education and views of people who themselves are deaf. This video, or viewing portions with your students, may be valuable in Deaf culture studies and self-advocacy considerations.
What are some materials to use to help children develop self-advocacy skills?

View this
one-hour YouTube video produced by high-school junior, Zina Jawadi, who has a moderate-severe hearing loss. The video is narrated by Zina and features her
teachers speaking on how classroom teachers need to adapt and accommodate for the student with hearing loss. This very positive video is conveniently divided into 17 sections and the material provides an excellent outline for students to learn about the important points to get across to their teachers when self-advocating. It also provides an excellent role model for self-advocacy!

TED Talk by Justin Osmond – 

son of the famous Osmond singing family who has a severe/profound hearing loss (15 min)

The Listening Project – 
young adults with hearing loss revisit their experiences learning listening and spoken language (2 min)
Another great video comes from the Hampshire Regional Program in Massachusetts.

True Deaf Kids Shining Bright in High School
is a 14 minute video where four students talk about their hearing losses.
Want to do a fun activity with your elementary-age students to teach them the parts of the ear and how it works? Try the

EDIBLE EAR!
Use food items for fun and learning. See the Edible Ear for a list of materials and a visual of the finished 'ear.'
Backseat Drawing Jr
This game is  recommended for practice listening to, and following directions in a fun way or to practice giving clear directions. A great activity to also practice communication repair skills if you cover your mouth, mumble or add noise that makes it challenging to understand the directions.

Click here
for a You Tube review and demonstration and

click here
for a written description regarding use for communication goals.

How can we systematically develop expectations for independence with hearing devices? 

The

 SEAM for School Success
(Student Expectations for Advocacy & Monitoring Listening and Hearing Technology) – The SEAM provides expectations for the level of independence a child should have with their hearing devices. It ranges from starting school (preschool or kindergarten) through high school. The student gradually takes on the responsibility for care and monitoring of hearing devices and also for assertively dealing with challenging listening situations. Below are materials that can be used to help students become more knowledgeable and independent with their hearing devices.
 BSI Guide expands on the
SEAM
Developing Skills Related to Hearing Status
Audiology Self-Advocacy Checklist-ELEMENTARY SCHOOL (ASAC-ES)
Audiology Self-Advocacy Checklist-MIDDLE SCHOOL (ASAC-ES)
Audiology Self-Advocacy Checklist-HIGH SCHOOL (ASAC-ES)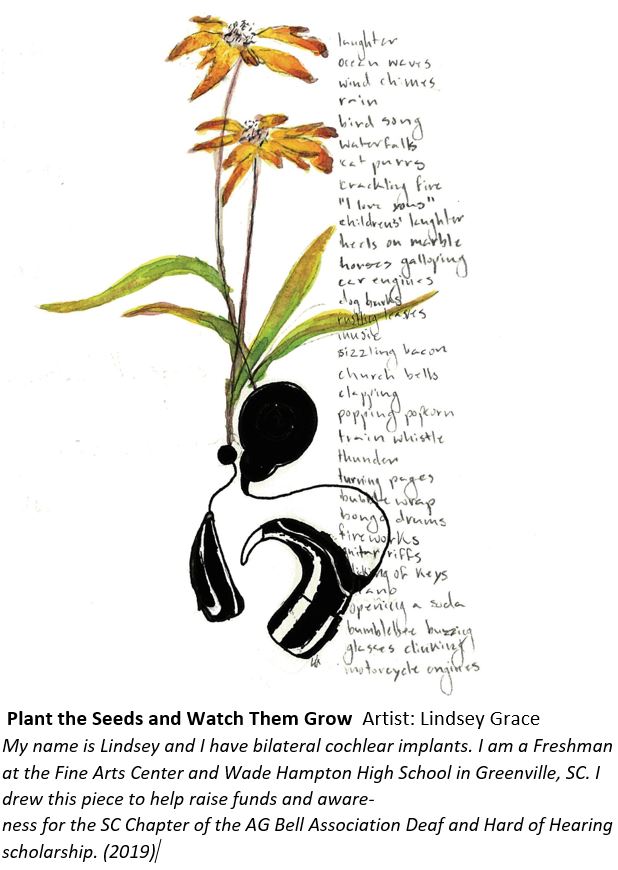 These checklists contains skills that students should develop during elementary, middle and high school related to their hearing status. To complete the checklist, enter the date the topic is introduced and then track performance using the progress levels (1, 2, or 3). If the skill has not yet been introduced (NI) the item is included but does not receive a score. If the skill is not applicable for a student, note NA and eliminate that item in the overall scoring. Specific skills that are being addressed may also be recorded as objectives on the student's IEP. Skills should be re-evaluated at least annually. Follow the scoring directions at the bottom to obtain an overall performance level. A mastery level of 90-100% indicates the student's audiology self-advocacy skills are functioning at the proficient level. If proficiency is not reached when the student transitions to middle school, work should continue on the deficient skills.
A valuable resource for self-advocacy and 'the hidden curriculum' is

How can we address self-advocacy and other areas of the expanded core curriculum in core content standards based IEPS?


 Iowa's new

Expanded Core Curriculum.
 This is a wonderful resource for IFSP and IEP team members when developing educational plans for a student who is deaf or hard or hearing.  This tool is designed for teachers of students who are deaf or hard of hearing and education audiologists to address these identified areas that are either not taught or require specific and direct teaching. Check out the 9 documents that comprise the Iowa ECC.
The
Minnesota Compensatory Skills Checklist  and the
Minnesota Social Skills Checklist are also helpful guides for professionals and parents as student skill areas and needs are considered.

How can we find out about what students think about their hearing loss and hearing devices?

Growing up with hearing loss isn't always as easy as it is for children with typical hearing. How they feel about themselves can greatly affect their self-esteem and how willing they are to comfortably advocate for their communication needs. The

My World tool
 developed by the
Ida Institute is suggested as a way to help students explore their feelings and their challenging communication situations.
DOWNLOAD THE FREE MY WORLD APP. My World was originally designed as a board game to enable children to share their perspectives about their daily lives and experiences, give them a voice, and help DHH professionals uncover information about the child's communication successes and challenges. The tool allows children to recreate their day and talk about how they communicate in different environments – at home, on the playground, or in the classroom – by populating the spaces with friends, family, and the things they enjoy. The new app was designed to make the tool globally available in an easy-to-access digital format. Download it for free in the
Apple App and
Google Play stores.
Refer to
Using the Ida My World Counseling Tool with Children: Suggestions for Use at Different Stages of Development, a one-page handout that suggests how, when, and why the tool can be used. My World can be of great benefit to enhance student understanding and growth at different psychosocial stages of development and as an adjunct to administering the
ELF, CHILD, LIFE-R, SAC-A and SOAC-A tests. Watch for more good things to come from the Ida Institute and use of My World.
E-BOOK: Self-Advocacy for Students who are Deaf or Hard of Hearing
The second edition of this popular book is a 2012 e-version written by Kristina English, PhD, of the University of Akron.  The materials in this workbook consist of 12 lessons, organized into four units with three evaluations and a summative learning activity.

Thank you Kris!     
You can open each lesson individually by clicking on the Lesson link.

Unit 1: Introduction – What Is Self-Advocacy?

Lesson 1
Self-Advocacy: What Is It and Why Is It Important?
Unit 2: Knowledge Is My Power Base
Lesson 2
 My Legal Rights While in High School: My IEP
Lesson 3
My Legal Rights When I Leave High School: Section 504 and College
Lesson 4 
My Legal Rights When I Leave High School: ADA and Work
Lesson 5
Transitioning: Making the Move from High School to College and Work
Unit 3: Personal and lnterpersonal Skills for the Self-Advocate
Lesson 6 
Setting Goals, Identifying Needs
Lesson 7 
Expressing My Needs Effectively
Lesson 8 
Negotiating with Others
Lesson 9 
Resolving Problems
Unit 4: Putting It All Together: Using Knowledge with Skills
Lesson 10 
My Role in Transition Planning: Preparation
Lesson 11
 Practicing for an IEP Meeting: Participation
Lesson 12 
Evaluating My IEP Participation
Page updated September 2019.